How Exercise Can Improve Your Mood
So a few weeks ago, I wrote a post called Things that we wished we could change. While I was writing it, I realized that I haven't been running or doing any other type of exercise for quite a while. I have felt down, depressed, and not wanting to do anything. Normally, I am NOT like that, I am the type of person that always has to be doing something.
My motivation for running and exercise had been completely gone! I didn't even want to do my exercises that my Chiropractor gave me, and they aren't that hard either.
After my Chiropractor told me that I could start running again (in the middle of March), I started going on weekly Saturday runs, just to work back into running. I was also trying to keep my fitness level up, but even then I still wasn't really "feeling it."
The middle of April I went out and ran with my friend Alli. We only went 3 miles and it felt pretty great. We ran an easy run, because it had been several months since she had ran, and it had been several weeks since I had been able to run a full 3 miles.
I did notice that after I had ran with Alli, I felt a lot better. Happier that I had been out and with a friend. I felt like I was in a better mood.
In that few weeks time period I came up with 5 things that helped me get my love for running back.
So here's my list:
Realizing that I needed to get my booty in gear for this marathon. I spent some time redoing my marathon training plan. I think it will help me to not injure myself down the road.
Running with friends. It was great for Alli cause she could chat, and I could listen. She was able to keep up with me and I was able to keep up with her. I forgot how much I loved running with friends.
Remembering how good I felt after running. My body didn't hurt, and I seemed to have a bit more of a runner's high.
Reading inspirational quotes and blogs about running and exercise. Wanting to find small exercises to try out.
Forcing myself to go out and run, even if it's just a mile. Because a mile is better than sitting on the couch all day wondering where my running mojo went to.
Looking back on this weeks running and exercise I should have been in a really crappy mood (time of the month crappy), but I felt great after each time I did exercise. I exercised for 4 days this week and felt great, even though I am exhausted. I can tell from the exercise this week that my relationship with my dogs and hubby have been better. I don't seem to be stressed as much either.
So in answer to my post title, how can exercise improve your mood?
Well it gets you out and being active. Outside is a change of scenery and helps you think clearer.
Not as stressed, though exercise is a stress on the body, but it's ultimately a good kind of stress rather than a bad stress.
Relationships are better because of taking time for you.
And "Exercise gives you endorphins, endorphins make you happy, and happy people just don't shoot their husbands." -Elle Woods (Legally Blonde)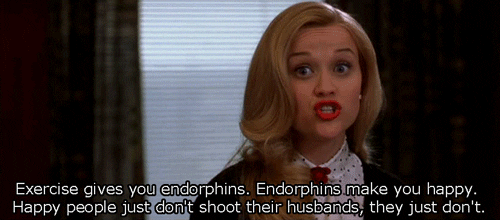 ---
P.S. Be sure to check out my Etsy Shop for cute printables like these: