Things that are Dopey Challenge Training Week 2
Dopey Challenge Training recap: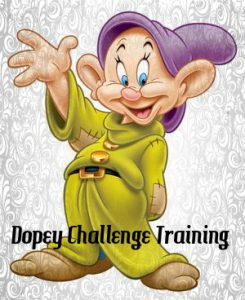 Monday: Barre class was on the schedule and since I haven't been going to class regularly its been kicking my butt! The classes at this gym consist of an arm workout, a leg workout (using ballet moves), and then an abs workout.
Tuesday: I ended up not doing any type of exercise. Rest Day.
Wednesday: Didn't get to the gym because I had a church meeting.
Thursday: I went to a spin class for the first time at the gym. It was a lot of fun, and my butt is sore. It definitely was a cardio workout that I needed.

Friday: Rest day.
Saturday: Went for a 3.17 mile run. It was super nice outside. I was going to run a little bit more, but decided not to, and glad I didn't because I'm sore now. Ran me some angry miles and it felt great!
Sunday: Rest day.
Total miles for the week: 3.17
I'll be honest. It makes me really tired thinking about training for another marathon. I'm not really training for just a marathon, but the dopey challenge which is a little harder! Any pointers or words of encouragement to help me get me more motivated would be great!
---
P.S. Please go check out my Etsy Shop! I've got a lot of cute infertility apparel.