Things that are Hiking in Utah: Mount Timpanogos
I'm sharing our experience of hiking and summiting Mount Timpanogos, one of the highest peaks in Utah with an elevation of 11,752 feet. If you'd like to hear all about our experience and what we packed read on, if not, feel free to skip this post.
Chase and I received hammocks for Christmas. We were excited to be able to try them out when warmer weather started up. We took them out several times to just lay in them and try them out.
Chase and I have been talking about backpacking for YEARS, but we never commit to actually doing it. Chase mentioned him wanting to backpack with our new hammocks instead of tent camping, so in June I suggested we go backpacking for our anniversary. After some research I decided it would be fun to backpack to Timp.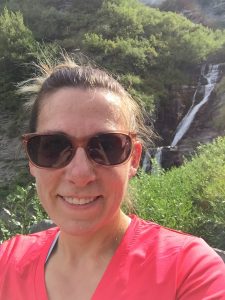 We started getting supplies and even jimmy rigged our sleeping bags to be underquilts for our hammocks. I'll list everything we brought with us at the end of the post.
Because this was our first backpacking trip we didn't feel we should take Kason with us. So he stayed with Mama and Papa for the night, and did great. Because I knew he was in great hands, I didn't cry, but Chase and I both missed him.
The total miles for the hike are 12-13 round trip. Our plan was to hike 3-4 miles in, set up camp, and then hike to the summit and then back to our car the next day. We ended up taking the Aspen Grove Trail, which gave us more water options.
We ended up starting our hike about an hour late, and it took us longer to hike than expected. So instead of 4 miles taking us 2 hours it took us closer to 4 hours. We got in and started setting up camp around 8:30-9pm. I started our dinner and Chase started setting up the hammocks.
We were about 50-100 feet away from the main trail. There are a LOT of hikers that hike during the middle of the night to see the sun rise at the summit during the summer. So between 1-3am we kept hearing hikers, very loud hikers, I might add, which kept us up most of the night. We also had some loud campers near by that got in just after we got into our hammocks for the night. So all in all, a pretty bad nights sleep.
We were up just before sunrise (5:40am), and were hiking to Emerald Lake (on the way to the summit) by 7am.
After filtering and filling our water we made our way to the saddle. It was a very rocky part of the trail and we were constantly looking for the Cairns (human made pile of stones) to keep us from veering too far off the trail.
We made it to the saddle around 8:30am, and after a few pictures we started our ascent to the summit.
I might add that Chase was struggling with breathing, and with it being at such a high altitude I don't blame him. I was struggling with being scared of falling down the side of the cliff. The climb to the summit was SO rocky that there wasn't even really a trail, which made it all the more difficult.
We finally made it to the summit around 10am, and it was beUTAHful! Chase and I were both indecisive on whether it was worth it or not to climb so high and to be in so much pain.
Though we had smiles on our faces, we were more than exhausted and knew we still had to hike back to our car. On the way back to the saddle, we saw some mountain goats, and one jumped within a few feet of me (Chase was really nervous they were going to charge me).
It seemed a lot harder on our descent, and the more we descended the warmer it got, versus being at the top of timp with our jackets on to keep warm.
We were about 2 miles away from the trailhead and as Chase was stepping down off a rock his hiking pole gave out and he fell off the trail and started rolling down the hill. Thankfully within a split second he was able to grab onto a branch, and I was able to help him up. Aside from his back and knee being banged up, we left the timp trail unscathed.
We finally made it down to our car by 4:30pm – which was pretty close to when we predicted that we would be finished.
During the entire hike Chase had a problem with his back. His pack wasn't adjusted correctly to distribute the weight through his hips. So during our descent we went a lot slower, plus the risk of sliding and falling were also concerns.
After over a month since we hiked Timp, I think I'll one day do it again. I think what made it easier on me was the fact I had been running 9-13 miles for my long run. While Chase on the otherhand had not been. We hadn't really been hiking since May, so he was less prepared than I was.
---
What we packed:
Hammock and Sleeping bag used as an underquilt
Tandem Hammock System – the best thing ever!
Chill Gorilla Rain Fly
First Aid Kit with moleskin
Hiking Poles (not the ones Chase used)
Hiking Backpack
Chapstick (because my lips are ALWAYS chapped)
Toilet Paper
Baby Wipes in a ziplock baggie
Flashlights and a little bright lantern
Bug spray/Sunscreen
Rope/Twine
Prescription Sunglasses
1 propane tank, that attached to a backpacking stove
Tin bowl + forks
Plastic garbage bags for our packs + a couple trash bags to pack it out
Emergency Kits that we got for Christmas
Battery Chargers for our phones and watches
Clothes: Sweatshirt, Longsleeve tech shirt, underwear x3, poly/spandex shirt, pants (we wore the whole time were 100% nylon), wool socks, hat, water resistant jacket, and I wore my chacos, but had an extra pair of shoes.
Food: Trailmix from Costco in baggies, roasted garbonzo beans, protein bars, apples, freeze dried breakfast skillet, freeze dried mexican style rice and chicken, 2 water bottles for each of us, plus a water filtration system.
There are definitely things we didn't need to take with us (clothes – we ended up not changing like I thought we would), and I could've taken more of a variety of healthy food. I was really getting sick of trail mix by the end of the hike.
---
P.S. Check out this cute One in Eight shirt in my Etsy Shop!